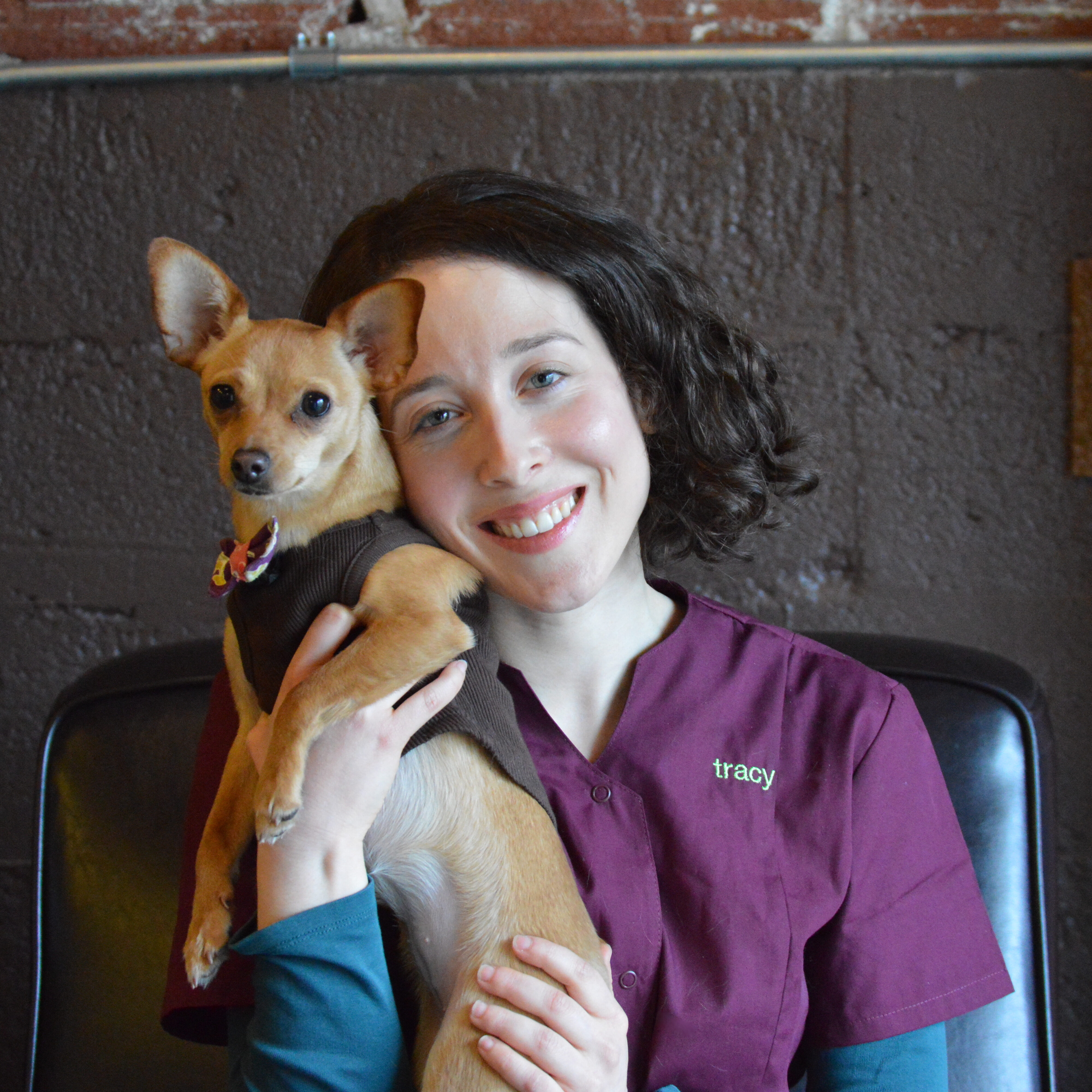 Tracy Platt, Client Care Advocate
Mission Statement
As a Client Care Advocate, it is my mission to do whatever I can to make your experience at Mt. Tabor Veterinary Care a great one! It is my opinion, whether as a patient in the human health care system or as the parent of a veterinary patient, that we should feel empowered to play an active role in health related decisions and have a team of trusted partners that will help us navigate the healthcare journey. It is my honor and privilege to be a part of your trusted team.
Bio Statement
"I am so proud to be a part of the Mt. Tabor family because every single person strives to provide the utmost support to clients and cares for each pet as if she or he was their own. Also, it brings me great joy to work in a supportive and authentic environment where the entire team creates meaningful, rich connections with each other and the clients and patients they serve."
Education
Bachelor of Art in Liberal Studies with an Emphasis in Urban Community and Environment – Antioch University
Professional
Current member of the following veterinary organizations:
• Veterinary Support Personnel Network
• PVMA Paraprofessional Support Program
Professional interests include liaising and systems analysis.
Volunteering
I work with an amazing organization called the Geezer Gallery. Aside from showcasing amazing artwork of artists 60+, the organization is passionate about facilitating art therapy programs for older adults. Building upon Dr. Gene Cohen's creative aging research, the Geezer curriculum promotes social engagement and challenges participants to expand their artistic skillsets and realize the totality of their creative potential. All of the magic that happens in these classes leads to greater overall well-being and provides neuroprotective benefits.
The Four Legged Loves of My Life
I (lovingly) twisted my parents' arms and convinced them to give their only child furry siblings just before I started middle school. My kitties, Sheena and Tarzan, reigned over our little backyard-turned-urban farm. I was incredibly lucky to have them in my life for 14 and 17 years respectively, and not a day goes by that I don't think about them and the lessons they taught me. They showed me how to be fully present and truly live in the moment—they were always fully aware and appreciative of their surroundings and the food on their plate, and they gave and received affection each day. I look forward to sharing my home with more four legged friends now that I have permanently settled in the City of Roses.
Passions and Hobbies
Music – I took vocal lessons for a couple years and became a musical theater kid. I stopped performing, but not a day goes by that I am not listening to and singing along to something. Some of the musicians who consistently feed my soul are Carole King, James Taylor, Ingrid Michaelson, and Blossom Dearie.
Food – I enjoy experimenting in the kitchen with whole food ingredients and checking out Portland's foodie scene. My favorite kitchen tool is my Saladaccho spiral slicer that allows me to make angel hair out of zucchini. Favorite food spots around town include Accanto, Bamboo Sushi, Harlow, Serratto, North Light and Brooklyn House.
Exploration via foot – Growing up in SoCal, I dreamed of being about to live without a car. In Portland, that dream became a reality and I love that I can walk all around this amazing city and cross bridges by foot. I adore Washington Park, Forest Park, and Mt. Tabor. One of my surprisingly favorite places to walk through is the Lone Fir Pioneer Cemetery.