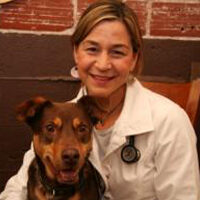 Lisa Williams, DVM, Associate Veterinarian
Mission Statement
It is my honor and my life's calling to treat each and every pet as I would my own by providing a safe and comfortable environment for both clients and their pets in which we, together, provide the best veterinary care in an open and compassionate manner. It is my goal to see that every client leaves the clinic knowing that they received the best possible care they could for their pet given each individual circumstance.
Bio statement
"I am honored and humbled by the love, intelligence and emotional bonds I see daily between clients, their pets, and our clinic. Mt. Tabor Veterinary Care is different in all the right ways, and I love being a part of it!"
Education
Doctor Of Veterinary Medicine – Oregon State University 2007
Certified Public Accountant – 1994
Bachelor of Science in Accounting and Marketing – University of Oregon 1992
Professional
Current member of the following veterinary organizations:
. American Veterinary Medical Association
. Oregon Veterinary Medical Association
. Portland Veterinary Medical Association
. Veterinary Information Network
Professional interests include geriatric medicine and not-for-profit work.
Volunteering
Member of the Executive Board of the Portland Veterinary Medical Association
I have worked with the Perros Project overseas and the Humane Society of the United States during Hurricane Katrina. I am hoping to bring this a little closer to home in the coming years!
The Loves of My Life
I currently have a crazy Peruvian street dog, Lucas, that I love dearly. He has taught me so many lessons in patience over the last year and truly helped me to empathize with clients who have pets with challenging behavior. My beloved dog Luna, passed a couple of years ago now. She taught me how to love, unconditionally, and about the special and multiple needs of geriatric patients. I imagine her watching us and laughing out loud at the crazy antics of Lucas!
I was blessed to grow up in Portland, so my family is also all around!
Passions and Hobbies
Drinking wine, hiking, playing soccer – probably not in that order!
I love meeting friends out and getting together at a great new restaurant.
I love the water – but I am not out on it nearly enough – I think there is a kayak in my future!
Other plans for the future include resuming piano lessons and learning Spanish.
Dogs – Of course, there is not a dog on the street I will not stop and pet – at this point my family and friends know to just keep walking and I will catch up.