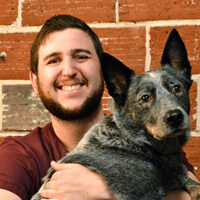 Matt Gordon, Veterinary Nurse
Mission statement
My mission at Mt. Tabor Veterinary Care is to utilize my skills and knowledge as a Veterinary Nurse to help owner's make informed decisions while helping to enrich the lives of their furry companions.
Personal Bio Statement
"I greatly enjoy the pleasure of working at Mt. Tabor Veterinary Care where I can spend the time utilizing my skills as a veterinary nurse, and to create long lasting bonds with my fellow co-workers in an atmosphere of compassion and care."
Education
Currently studying Aviation Sciences at PCC
Studied Professional Photography at MHCC until the program closed.
Professional
Current member of the following veterinary organizations:
• Veterinary Support Personnel Network
My professional interests include dentistry, radiography, pathology, and orthopedics.
The Loves of My Life
Movies – I would classify myself as a film nerd. I love watching movies of all genres, and love to quote lines from them with my friends.
Photography – I have always enjoyed capturing the world in my own different way. Photographing shapes and structures is the main focus of my photography, and I also love the post production aspect (Photoshop).
Family – I am a native Oregonian currently residing in Troutdale with my lovely Texan wife Valerie, our young daughter, Ada, and my two rambunctious Blue Heelers, Nitro (Mr. Man) and Z (the Princess). We love taking outings to the coast to watch the dogs perform their amazing acrobatic skills at catching the frisbee.