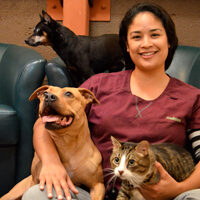 Melissa Guila, CVT, Lead Veterinary Nurse
Mission Statement
My mission is to share my compassion for our animal friends, educating our clients to help their pets live healthy and comfortably, taking care to cater to each of their unique personalities with gentle, precise, and practical techniques.
Bio Statement
"I feel so rewarded to be able to practice medicine in the gentle, thorough way I continue to grow to respect – what an awesome team I work with!"
Education
Certified Veterinary Technician since 2008
Diablo Valley College – Pleasant Hill, CA
Portland Community College
Professional
Current member of the following veterinary organizations:
• Oregon Veterinary Technician and Assistant Association
• Veterinary Support Personnel Network
• International Veterinary Academy of Pain Management
• PVMA Paraprofessional Support Program
Professional interests include wellness and preventative care with lots of client interaction, radiology, dentistry, phlebotomy, feral cat population reduction, and stray and homeless animal care.
Volunteering
Having all pets that were either rescued or adopted from another home that needed help, it is gratifying to know that I could make a vital change in the future of a helpless animal that I don't necessarily have to take home.
• Feral Cat Coalition of Oregon
• Feral Cat Foundation of Dublin/Fremont (CA)
• Humane Society of Alameda (CA)
The Loves of My Life
I live with my wiggly Billy (a miniature pinscher), my lively Indy girl (a pitbull mix), a very entertaining cat – Scooter Dude, and, my sweet hubby Jake.
Passions and Hobbies
What Puts Me At Ease – yoga, rock climbing, a good book, snuggling with the pets, spontaneous mini vacations, hiking with the dogs in the great outdoors of Portland, and pizza!
Exploring Portland and Surrounding Areas, including, but not limited to – restaurants, rivers, dog parks, disc golf parks, the McMenamins, and the many street fairs, farmer's markets and festivals.
Gardening – Mostly in early spring through early fall. I love the smell of fresh picked tomatoes and basil!
Food – Love the pressure of cooking 3-5 courses at the same time and hoping for mmms and yums, but mostly love to be spoiled at a really good restaurant.