Grieving and Coping with Your Loss
We can never be prepared for death. When we lose a loved one, we can experience deep sorrow and grief. This pain is real. And it can feel overwhelming. There is a direct relationship between the depth of your love and the depth of your grief. You grieve because you have loved, and that same love will be the source of your healing.
Stages of Grief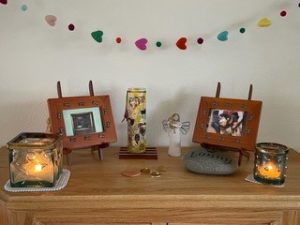 In the 1960s, Elisabeth Kubler-Ross identified five stages of grief that her patients experienced. Since that time, professional counselors have readily agreed that these stages are evident in the grief process in general. Grieving is not a linear process. There is an ebb and flow to the feelings and emotions. While the essence of grief is universal, each griever will experience their own unique, personal journey and timeline through the pain. Grief can be transformative, but there is a labor to mourning and we must trust the process. Common stages or emotions as we grieve may include the following.
Shock and Denial - You may feel stunned, overwhelmed, or in disbelief. This is a powerful defense mechanism, and it can afford a brief period of time to delay facing the reality of loss all at once.
Anger - This is a natural response to feelings of loss. We want to find someone or something to blame. It is perfectly healthy as long as we avoid turning the anger inward, suppressing it, or mis-directing it at others.
Bargaining - We create a dialogue with ourselves, a higher power, or the universe in an effort to change the outcome. "If I do this, will it take my pain away…give me more time…bring my loved one back…"
Depression and Sadness - Your emotional strength seems to give out. You may feel physically and mentally exhausted, cry easily, lose energy or appetite, become detached or overcome with sadness, or even question your sanity. These feelings may come and go. This is perfectly normal, and we must work through these feelings not against them.
Resolution and Closure - This is a time of inner healing, when you begin to remember moments of joy, the gifts that your relationship brought to your life. Memories will begin to make you smile instead of cry, slowly at first, but with increasing frequency. The greatest joys and lessons in life arrive in an instant, but stay forever.
What is Normal?
Whatever you are feeling is normal for you. The language of grief is universal, but the specific feelings and process are unique to each of us. Trusting your heart is the way forward.
Understanding Guilt
Guilt is one of the more difficult aspects of the grief process. As advocates, we were responsible in life to care for our loved ones, and we may feel responsible for the way in which our companion died. It is perfectly normal as human beings to wonder if we could have - or should have - done something differently. Again, these feelings are normal and shared by most humans who grieve. One reason for this is a longing for control. In addition, it's much easier to see things in retrospect, and this makes us question ourselves. It can help to go over the choices and decisions as they were made, in real time, remembering that you were making those choices and decisions informed by what was happening in that moment and with the information you had at the time.
Why Does It Hurt This Much?
You are mourning the loss of a family member - perhaps your closest family member. The relationship between a person and their pet is profound, based on unconditional love and trust. Animals are not judgmental and they put faith in you implicitly. Many people find their grief in losing a pet to be equal to, or greater than, what they have experienced losing a human companion or family member. This is normal. Grief is a matter of relationship, not species. Grief can also be a trigger - one loss may bring up other issues of pain or loss in your life, creating a more complicated process. We work through grief one breath at a time, allowing the feelings to flow through us. Love will ultimately help you find your way forward toward healing. And though your pain and grief can feel impossible at times, love is the only thing that will last forever.
How Long Will I Feel Like This?
Each person and their journey of grief is unique. And there are many factors that can affect the process. No one can predict how long your heart will hurt. We only know that healing comes, and the pain of loss does begin to soften with time. Loss is not something we can get over. Rather, we begin to find a way to slowly move forward.
What Should I Do Now?
You may begin to wonder what you should be doing - should you put away the dishes or toys, should you consider getting another companion, should you take that trip you've been putting off?
There are no simple answers to any of these questions. But it can help in the earliest days to slow down, and allow yourself to honor the grief and the love before you tackle the questions. Always follow your heart and do what feels right for you.
Some people need to tuck away reminders, such as food bowls, pictures, and toys. Others are comforted by their presence. Some people want to get away for a bit or be surrounded by friends. Others may prefer to spend time alone at home. It is important to listen to your own inner guidance.
The question of bringing home a new family member is complex. All too often, well-meaning family and friends will ask when you are getting another pet. Again, you need to follow your own heart and path. It is certainly possible to grieve and love again at the same time, but most people need a bit of space before moving into a new relationship. It's important to consider whether you are ready, and also whether you can give what is needed to a new relationship. When you are ready, you will be able to love again.
Family Dynamics and Helping Others to Cope
When you live with others - human or another species - it's important to be aware that each family member may react differently to loss. When we grieve, we are more vulnerable, so it's important to communicate honestly and share your feelings with all family members to avoid misunderstandings.
Children will look to their parents for help and guidance. (See "Helping Children Navigate Grief and Loss" for more on this)
And if the family includes other animal members, remember that they too are experiencing a loss. Just like humans, other animals will react to loss in their own way and may need time to adjust. They will look to you for guidance. It is very important to try and keep their routines stable and to provide them with lots of love and attention. Together, you will do the difficult work of grieving and begin the journey toward healing.
Pet Loss Support
Having a good support system makes a huge difference. This is a time when it helps to know that you are not alone, to share your feelings with people who understand your loss, and to have your feelings acknowledged and validated. Seek out family members and friends who are compassionate and supportive.
You may also want to consider a pet loss support group if you have the opportunity.